18oct(oct 18)11:00 am27(oct 27)12:00 pmFrom Fear to Focus11:00 am - 12:00 pm (27) View in my time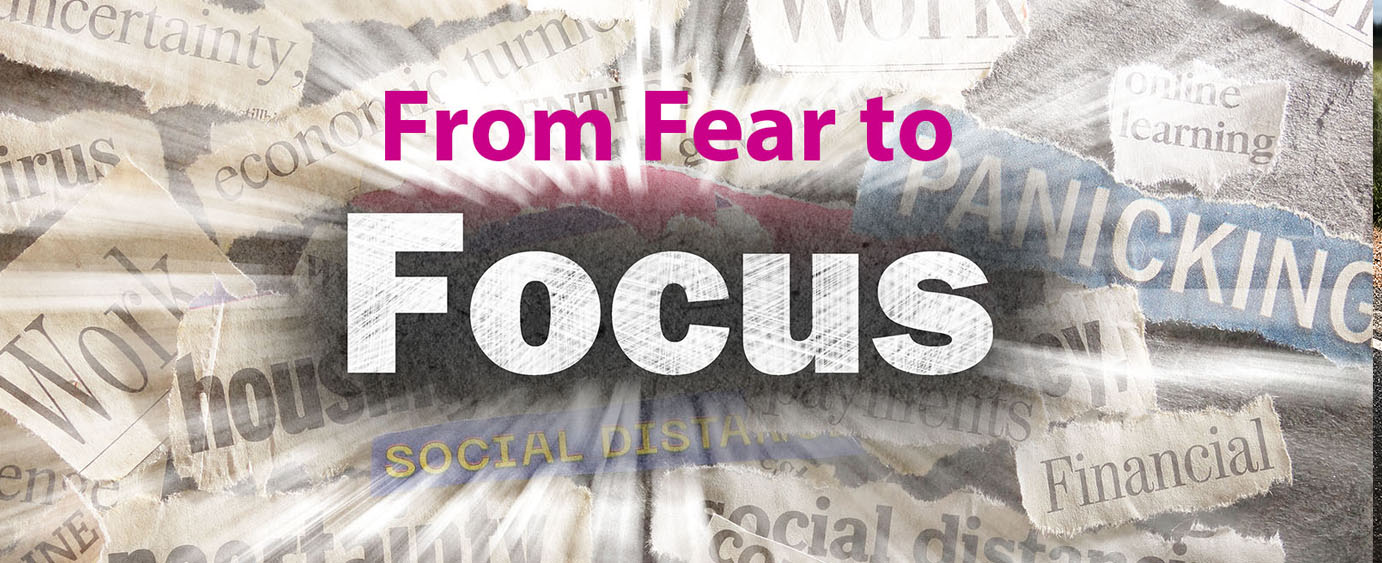 Ticket Section Title

Event Details

A 10-day online course to Find Your FREEDOM!
Tuesday, October 19 – Thursday, October 28
$39 Early Bird Pricing ends OCT 2; $49 Regular Pricing begins 10/3
Begins 8am Pacific/Arizona time via Zoom

JOIN ME FOR THIS ONLINE workshop at 8:00am PACIFIC/Arizona time
(begins 11:00am ET, 10:00am CT, 9:00am MT)
30-45 minute class session for each of the 10 days

Join the Workshop LIVE via Zoom. Meeting ID details will be included in your registration confirmation, along with the private Facebook group access link.

Class will be recorded if you can't join live – All replays will be available in the private Facebook group immediately following that day's live Zoom class.

Over the last year-and-a-half, I think it is safe to say that we have all felt varying levels of fear. Some realistic, some not – but all are felt. One thing we all have in common is that in some way, fear has crept into our lives throughout this pandemic. At some point, as much as you trust the Universe, and know that all is in divine order, there are moments where you lose your focus, and sometimes your trust … and you experience fear.

Think about what you've been scared about over the last 18 months …

Maybe you have been scared …

to get sick, to lose your job, to lose someone you love, to speak your truth, to stand in your power, to lose your business, to not have choices, to be wrong, to lose a friendship, to be judged or shamed, to lose your freedom, to lose your health, to lose your free will, to send your kids to school, to leave your kids at home, to die, to express how you REALLY feel, to be affected by someone else's choice … the list goes on and on, right?

FEAR is rampant in our society right now. When adults are scared, they often protect themselves by putting up their defenses and projecting onto others. The fear then expresses itself more as anger, blame, or judgment. It manifests into arguments, feelings of not being heard or seen, illness, violence, negativity, mental health challenges … just to name a few. Unfortunately, all this does is perpetuate the underlying issue … FEAR. It literally makes it grow. It doesn't matter what perspective you are coming from – whether it appears within yourself or in others – you have no doubt felt or witnessed all of the above.

The problem is not fear …. The problem is focus.

Fear is a natural part of the human experience. It is ok to be afraid.

It is NOT OK to take that fear and project it onto others … to become abusive and critical of anyone that sees things differently than you do. Exhibiting that behavior is allowing the fear to take your joy … your life force energy … your humanity.

It is TIME – past time – to come back to our center … our heart. HUMANITY MUST remember that everything we do, and think, and feel is related to everything else. We are all connected. We are ONE.

What we need is to get FOCUSED! We need to be intentional in our thinking and creating. It is time to take our attention, our energy, and our power back. It is time to get connected to that which is who we are. It is time to step into our hearts and live our lives from a place of LOVE and CONNECTION … Honoring that we are all here, at this time and space, to expand our LOVE even greater – not to hold it back – but to give it to ourselves and to others even more freely; to see through the eyes of love and compassion.

In taking responsibility for our focus, we begin to put ripples of love out into the world. As we all know… WE MUST BE THE CHANGE WE WISH TO SEE.

It starts with you, my friend. And me. After all, we are the ones we are waiting for.

Now, I know that it is hard to stay focused on LOVE when there is so much pain and illness and sadness and hate in the world. This is why YOU ARE NEEDED! Yes, it is hard. Yes, it takes a lot of awareness and presence. And … Yes, you can do it. And, you don't have to do it alone. I'll be right there with you, with a community of support for the hard days when you've just had enough.

So, ask yourself these questions … and if the answer is yes, come and join me for 10 days as we move from FEAR to FOCUS!
Are you feeling STUCK in your thoughts, fears, or worries?
Are you finding yourself thinking about ways you could speak up and share your truth, but you get stuck in expressing it?
Do you see/know that your health, relationships, and your own self-esteem are suffering because your focus is on stinkin' thinkin' or FEAR?
Have you noticed yourself become less joyful and more critical … and feel like you are losing yourself in it all?
Do you recognize that it is YOU that holds yourself back and YOU that can change the energy … not just for you, but for humanity as a whole?
Are you feeling out-of-control with your feelings towards others and KNOW there has to be another way?
If any of the above feels true for you, come and join me. I'll be bringing you right into my life and what it is I do … and DON'T do … that helps me stay focused on my heart and moving out of the fear so that I can live the LIFE I LOVE!
I hope you will join me and the other amazing people that are ready to FOCUS on what they want to feel and see and do!!!!! This 10-Day LIVE Experience will include a 30-45 minute LIVE video every day, via Zoom and simulcast in a private Facebook group with me, Sunny Dawn Johnston. I will inspire you each day through a variety of action steps that will help you RECLAIM YOUR FOCUS, and by doing that, release the FEAR. We will also utilize the private Facebook group for you to share your insights and aha's.
It all starts October 19th at 8 am PT LIVE via ZOOM.
Event Time

18 (Monday) 11:00 am - 27 (Wednesday) 12:00 pm View in my time