22aprAll Day25Gloom to Bloom Summit(All Day) View in my time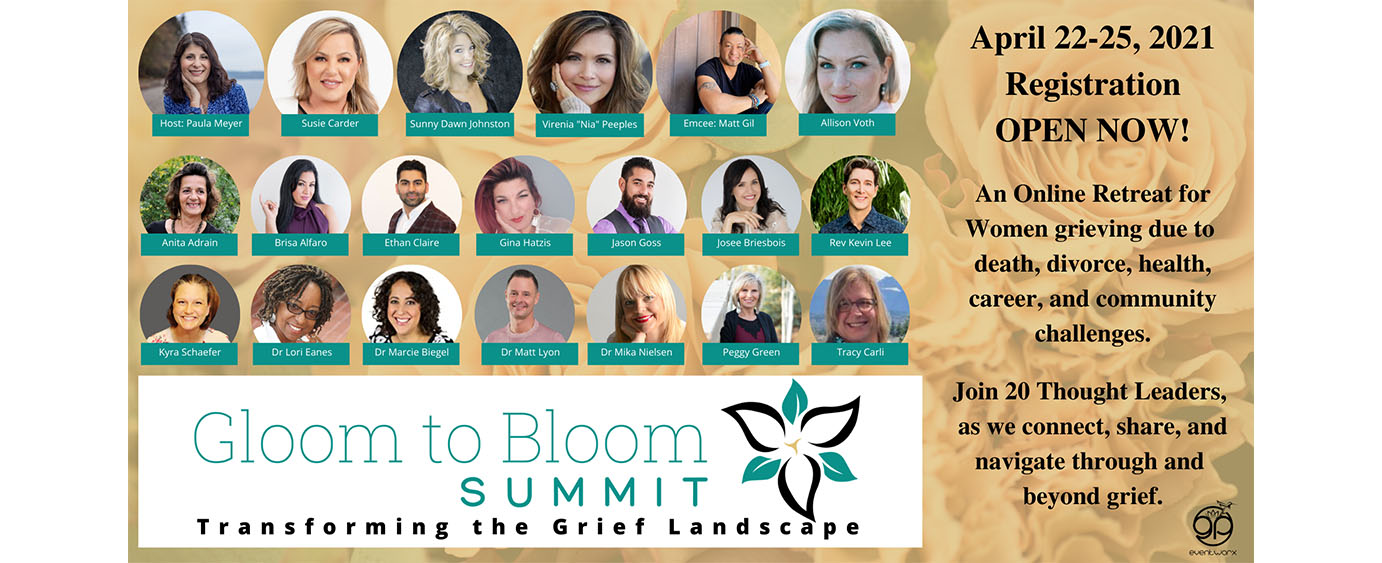 Event Details

General admission tickets are $197, and VIP is $397

Presented via Zoom Room

I'm so excited to be a part of this life-changing grief summit for women! You don't have to do this alone! Invest in yourself…you deserve it! Journey with us and let's heal together!

For this 4-Day Immersive Summit for Women, I'm joined by Paula Meyer, Virenia "Nia" Peeples, Susie Carder and 16 other speakers, all with unique insights around travelling the journey of grief (which can come in many forms: a loss, divorce, business fallout, injury, etc.)

Click on the link for full details and to register:

http://www.gloomtobloomsummit.com/webinar-registration

The Goal of this Summit is to Become Master Gardeners of our own Inner Garden & Live Life in Full Bloom.
Overcome the fear and uncertainty
Gain a community alongside you
Find peace and connection
Gain back control of your life even amidst intense feelings of grief
Tend to your garden, harness your inner power, and bloom!
Day 1: Burn and Turn (Prep my soil)
Learn to navigate all the forms of grief and loss
Hear authentic stories
Pick up useful tools for days, months, and years ahead
Reshape your approach to grief
Day 2: Alive and Thrive (Plant my seeds)
Understand physical pain and grief in the body
Become aware of underlying issues and resolve them
Transform your energy and environment
Day 3: Flow and Grow (Tend my garden)
Learn to keep moving forward
Discover hidden opportunities in loss
Take on the world in a new way
Give the world something meaningful from your lessons
Day 4: Elevate and Create (Bloom)
Make room for your spirituality
Learn to seek answers within yourself and in your community
Find your tribe and surround yourself with rich, fulfilling people
Grief is painful. But there is a path to transformation, to blossoming in a way you never have before. It's going to be a wonderful experience packed with experts and ordinary people – all of us seeking to grieve in a better, healthier, fuller way.
Event Time

april 22 (Thursday) - 25 (Sunday) View in my time