14aug10:00 am1:00 amIgnite Your Power10:00 am - 1:00 am View in my time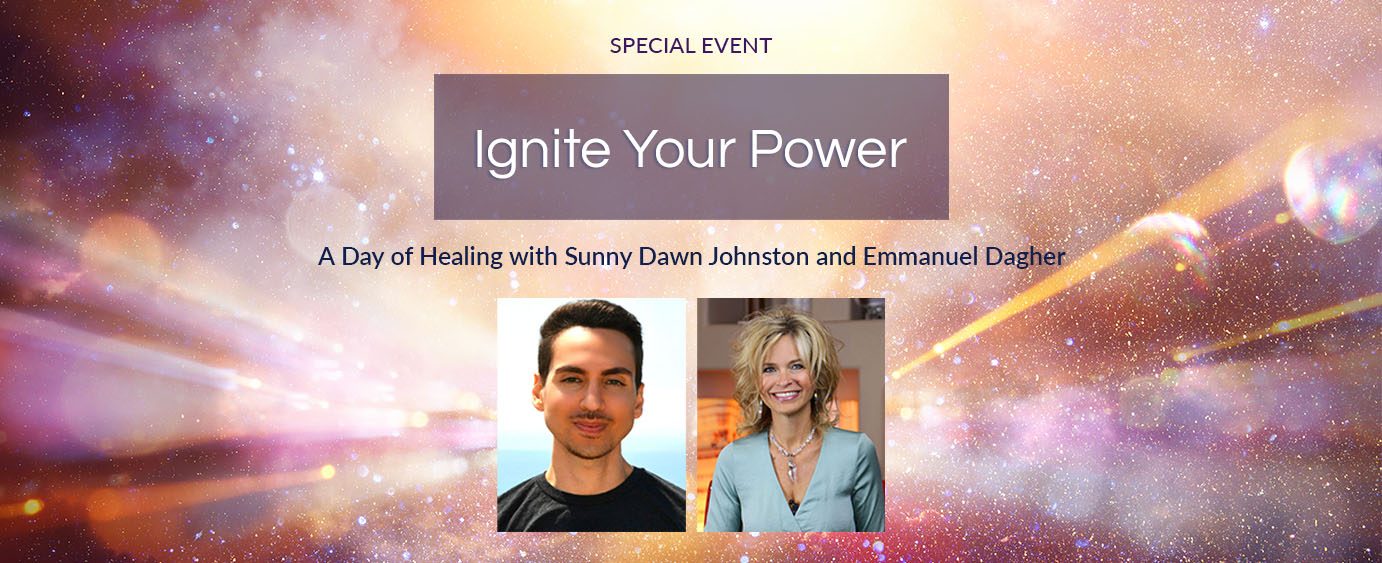 Ticket Section Title

Early Bird "Pay What You Can" option through 7/31
Event Details

Ignite Your Power – A Day of Healing with Sunny Dawn Johnston and Emmanuel Dagher

Saturday, August 14th, 2021 10:00 am – 1pm Pacific (Begins 10am PT, 11am MT, 12pm CT, 1pm ET, 6pm London)

Investment: To honor and include everyone during these times, we are offering this half-day retreat via a special Pay What You Can option. Early Bird option through 7/31 is you choose your price: $33, $55, $77, $99, $111.

Beginning 8/1 the cost is $111.

As empaths and highly sensitive people, it can be so challenging to navigate this world because we just want everyone around us to feel good, happy and at peace. Often, it comes at the cost of our own personal health and well-being because we are constantly out-putting and giving our energy away. Join Sunny and Emmanuel as they teach you techniques to completely shift your approach to supporting others in a way that no longer leaves you feeling depleted, exhausted, and disempowered. We desire every empath and kind Soul to know how to manage their energy and take their power back so that they too can operate at their 100% most powerful, happy, and free self!

Sunny and Emmanuel have been expanding on a variety of healing techniques to support you in a time when things are changing so quickly. It is important now more than ever to have the tools that can help you be present, empowered and not get caught up with all of the noise going on in the world. It is time to stand in your power, own your energy and take the power you have given to others… back!!

In this half-day healing retreat, Sunny and Emmanuel will support you with:
Calling any of your energy back that you gave away to people, habits, timelines, and experiences that are no longer aligned with your highest and greatest good.
Showing up for and loving yourself in such a way that frees you from the patterns that kept you searching outside of yourself for love, approval, and validation.
Operating from your most empowered 100% Self – and turning your power on!
Recharging your energetic battery quickly.
Resolving challenges with setting healthy boundaries.
Tools to help heal your physical, mental, and emotional bodies.
And much more!
Sunny and Emmanuel will also be offering healing support, transmissions, and guidance during Q&A time!
Coming together with like-hearted souls naturally awakens deep feelings of comfort, openness, support, and connection. As we gather together with the mutual intention of opening and unifying our hearts, we will create a healing space to step into, in addition to the healing support and guidance that Sunny and Emmanuel will be sharing with you.
If this sounds like a gathering you'd like to be part of, Sunny and Emmanuel would be honored to have you be part of this empowered day of healing!
*** This half-day retreat will be recorded if you can't join live. Event login details will be included in your registration confirmation. ***
Event Time

(Saturday) 10:00 am - 1:00 am View in my time