Officiating Life's Ceremonies
15jan9:00 am2:00 pmOfficiating Life's Ceremonies9:00 am - 2:00 pm View in my time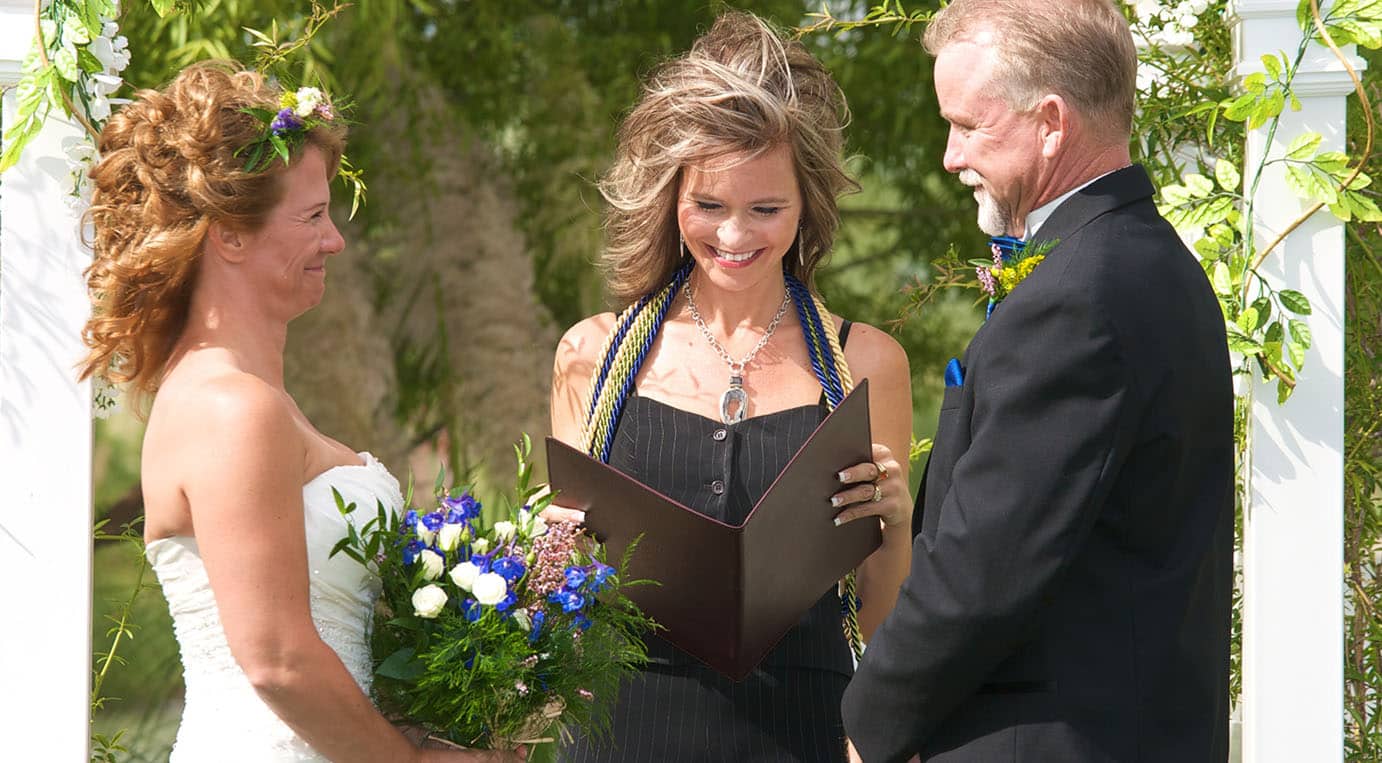 Event Details

Class held from 9am – 2pm PACIFIC time (begins noon ET, 11am CT, 10am AZ/MT)

In-person location: Glendale, AZ

(location details will be provided in your registration confirmation)

Investment is $555


LIMITED In-person spots: 20 peeps max

$222 non-refundable deposit required at registration

Option to be ordained – add $77

additional online spots available to view class "like a butterfly on the wall" at a discounted rate

Online via Zoom = $444
Have your friends and family been asking you to officiate their wedding and/or other celebrations of life?
Are you a minister or counselor ordained to lead one of life's ceremonies, but aren't sure where to start?
Do you want to be more involved in serving humanity on a variety of different levels?
Have you been thinking about how you could add new services to your business, but haven't been sure what that might be?
If you are someone who feels guided to be of service in a greater way by offering life ceremonies, but you don't know where to start, this workshop is for you. Whether you are currently an Ordained Minister or plan to become one, this workshop will take the guesswork out and give you clear and specific guidelines to planning, creating, and officiating life's greatest ceremonies. If you have a desire to start performing ceremonies, particularly weddings and funerals, this workshop will prepare you to be ready tomorrow.
Over the past 22 years, Sunny has performed hundreds of life ceremonies, including: weddings, funerals, celebrations of life, commitment ceremonies, baptisms, house blessings, friendship ceremonies, celebrations of new life, re-commitment ceremonies and hand-fastings, to name a few. She has had the opportunity to be with hundreds of people during the greatest moments of their lives, as well as the darkest and most challenging times they will ever experience.
This is the gift of being of service.
This class will offer you specific direction on what questions to ask to get started, what points to cover, what the legal needs are, how to write a ceremony, what to do during a ceremony, and what to charge for your services. Learn about traditional and nontraditional ceremonies, and how to fulfill the dreams of those participating, by truly listening to their needs.
Once completing this class, you will also receive two books of ceremonies as well as agreements, contracts, questionnaires, and more (online participants will receive digital copies of these books.)
Everything you need to start offering ceremonies will be included.
If you are not already ordained and would like to be, Sunny's team will take care of the ordination for you for an additional $77. Ordination is through the Universal Life Church.
When registering, please note if you are currently ordained or not.
"Through ceremony, we touch every aspect of the human experience. What an honor it is to be asked to be a part of such life-changing events." ~ Sunny Dawn Johnston
Event Time

(Sunday) 9:00 am - 2:00 pm View in my time