09sep10:00 am1:00 pmOracle Card Bootcamp10:00 am - 1:00 pm View in my time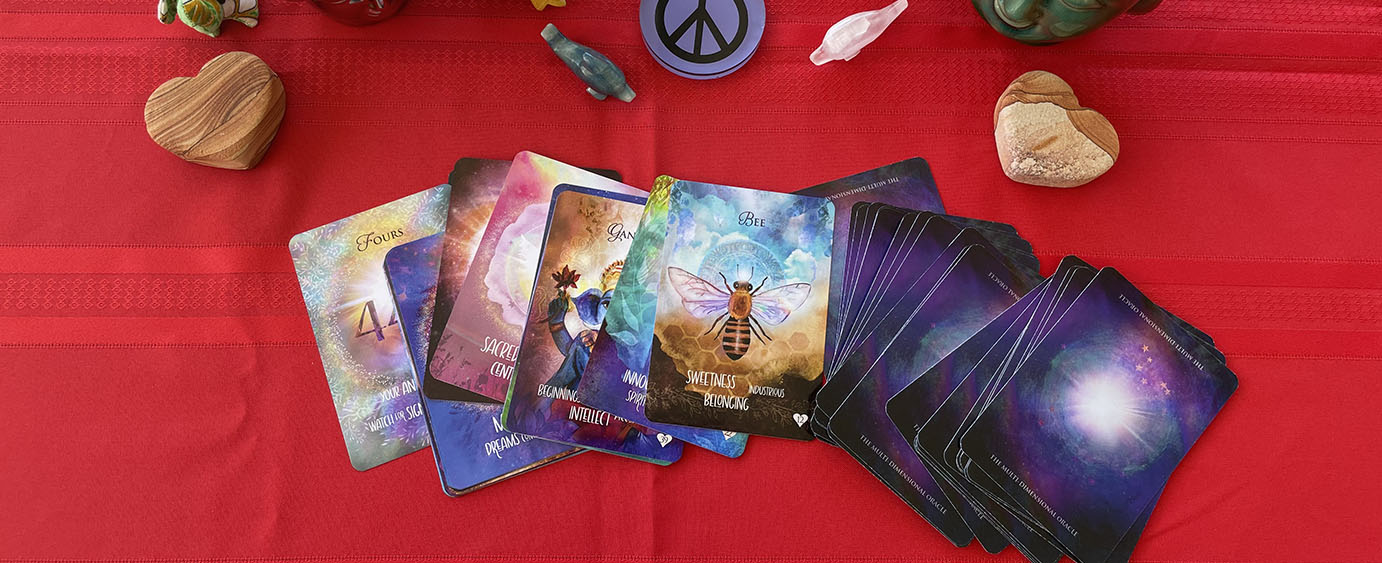 Event Details

Tickets Unavailable

Tune into the latest recorded bootcamp here without waiting for the next live scheduled event.

I LOVE oracle cards. As a matter of fact, I have collected over 250 oracle card decks over the past 30+ years. My love affair started back at the age of 13, when I started using Gong Hee Fot Choy cards to help me connect with Spirit, look further within, and bring me peace of mind in a time where I didn't feel much peace (you know… teenager 🙂 Once a week (it said not to consult them more than that, so I didn't) my mom and I would get out the book & the cards and we would do readings. I remember always feeling relief afterwards. It was like I had received some counsel that had said to me "everything is going to be ok", and for a short time, it felt true. I didn't realize then, that I was actually receiving counsel and that my spirit was setting in motion an experience that I would not only use for myself but teach thousands of others how to use as well.

Fast forward a decade or so and oracle cards became not only a part of my life, but a part of my daily spiritual practice. Picking a card for the day to focus my intention and energy on helped me to stay focused. As a stay-at-home mom, there were many times when I felt like I would lose my mind, but the intention I set in the morning would "remind" me of my true purpose or focus for the day.

About that time, a few other oracle cards were being produced. When angel cards came out, I fell in love all over again. They just felt so "right". It was shortly after that when I started offering readings myself. I started with Angel and Fairy card readings. They were the perfect doorway for me to begin my journey to OWNING my psychic abilities and learning to TRUST my intuition. I believe learning how to use oracle cards and be intentional with the energy you use them in, can help support you in ways that can truly change your life. They've changed mine.

Oracles and divination tools have long been a part of history. For thousands of years people have wanted to tune in and connect with the Spirit World and have used a variety of tools to do this. Whether you are new to Oracle Cards or have used them for years, there is always more to learn. I have discovered in my own life that being a student of the Oracle brings about the greatest learning, which in turn offers the opportunity for the greatest teaching.

If you are ready to DIVE into Oracle Cards, expand your knowledge and experience and TUNE IN to your INNATE WISDOM, this boot-camp is for you! In this 3-hour workshop, we will cover everything you ever wanted to know about Oracle cards:
How to prepare your deck
How to clear your space
How to use the cards to connect with your true purpose
How to discern the messages the cards are giving you
How your energy and emotions affect the cards and what to do to be neutral and open
How to ask your questions in a way that you can understand the answers
How to use the cards to gain greater clarity
What the meaning behind an upside-down card is
How to use different card spreads for different purposes
It will also include plenty of LIVE Q&A time with me. You will have the opportunity to practice with your own card deck as well, so have yours handy.
Learning to listen to your own intuition and connecting to that guidance for yourself is so critical. If you're connected inward, you know where your true power lies … you know where the wisdom truly is. You know that you can rely on that connection – and you will always be able to do that. Learning to TRUST your Intuition is one of the greatest gifts you can receive. It is already innate. All it takes is some awareness and some practice. If you are ready to open up to your intuition, expand your awareness and tune into the oracles, come and join me for our Oracle Card Boot-camp!
Event Time

(Friday) 10:00 am - 1:00 pm View in my time